Linset is an Evil Twin Attack Hacking Tool with everything built in (multi-lingual web page, DHCP, DNS server with redirect fake AP etc) so it has a bunch of dependencies, and it's in Spanish. But other than that, it's pretty cool.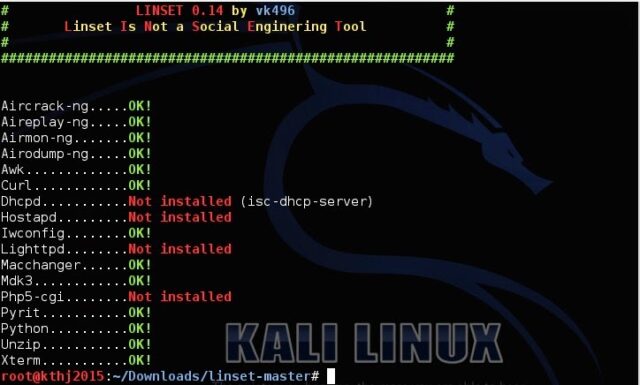 It's also a recursive acronym – Linset Is Not a Social Enginering Tool. There are some other cool Evil Twin tools like Infernal Twin – Automatic Wifi Hacking Tool and the protection tool EvilAP Defender – Detect Evil Twin Attacks.
Features of Linset Evil Twin Hacking Tool
Scan the networks.
Select network.
Capture handshake (can be used without handshake)
We choose one of several web interfaces tailored for me (thanks to the collaboration of the users)
Mounts one FakeAP imitating the original
A DHCP server is created on FakeAP
It creates a DNS server to redirect all requests to the Host
The web server with the selected interface is launched
The mechanism is launched to check the validity of the passwords that will be introduced
It deauthentificate all users of the network, hoping to connect to FakeAP and enter the password.
The attack will stop after the correct password checking
Requirements for Linset
As it's a BASH script, there's quite a list of external apps required to run Linset successfully:
– Aircrack-ng
– Aireplay-ng
– Airmon-ng
– Airodump-ng
– Awk
– Curl
– Dhcpd
– Hostapd
– Iwconfig
– Lighttpd
– Macchanger
– Mdk3
– Php5-cgi
– Pyrit
– Python
– Unzip
– Xterm
Any standard Linux install will have quite a number, something like Kali will have even more but most likely you'll need to install DHCPd, HostAPd, LigHTTPd and PHP5-cgi.
Linset Download
You can download Linset here:
Or read more here.