Kismet is an 802.11 layer2 wireless network detector, sniffer, and intrusion detection system. It will work with any wireless card which supports raw monitoring (rfmon) mode and can sniff 802.11b, 802.11a, and 802.11g traffic.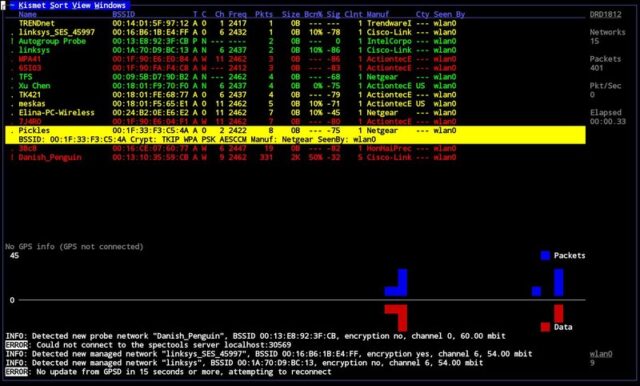 What is Kismet?
Kismet differs from other wireless network detectors in working passively. Namely, without sending any loggable packets, it is able to detect the presence of both wireless access points and wireless clients and to associate them with each other. It is also the most widely used and up to date open source wireless monitoring tool.
It also includes basic wireless IDS features such as detecting active wireless sniffing programs including NetStumbler, as well as a number of wireless network attacks and sports a plugin architecture allowing for additional non-802.11 protocols to be decoded.
Kismet Features
802.11 sniffing
Standard PCAP logging (compatible with Wireshark, TCPDump, etc)
Client/Server modular architecture
Plug-in architecture to expand core features
Multiple capture source support
Live export of packets to other tools via tun/tap virtual interfaces
Distributed remote sniffing via light-weight remote capture
XML output for integration with other tools
In order to find as many networks as possible, it supports channel hopping. This means that it constantly changes from channel to channel non-sequentially, in a user-defined sequence with a default value that leaves big holes between channels (for example, 1-6-11-2-7-12-3-8-13-4-9-14-5-10). The advantage of this method is that it will capture more packets because adjacent channels overlap.
There are more Wireless Hacking tools here.
You can download Kismet latest version here:
Or read more here.