A reader e-mailed me a while ago about a fairly comprehensive SQL Injection Cheat Sheet they had created and posted up.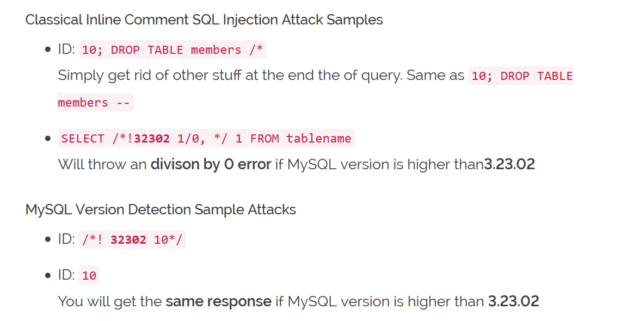 I compared it to the other ones I had bookmarked, and it was different enough to be worth posting.
Currently only for MySQL and Microsoft SQL Server, some ORACLE and some PostgreSQL. Most of samples are not correct for every single situation. Most of the real world environments may change because of parenthesis, different code bases and unexpected, strange SQL sentences.

Samples are provided to allow reader to get basic idea of a potential attack and almost every section includes a brief information about itself.
SQL Injection Cheat Sheet
It's worthy resource to save on your hacking pen-drive and bookmark in your portable Firefox.
https://www.netsparker.com/blog/web-security/sql-injection-cheat-sheet/