THC Hydra Download below, this software rocks, it's pretty much the most up to date and currently developed password brute forcing tool around at the moment.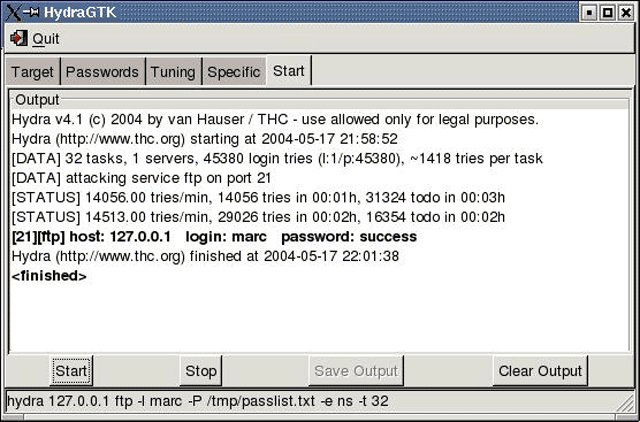 Number one problem with security and people getting hacked are passwords, as every password security study shows. Hydra is a parallelized login cracker which supports numerous protocols to attack. New modules are easy to add, besides that, it is flexible and very fast.
It supports a LOT of services and protocols too.
THC Hydra Hacking Tool Features
There are already several login hacker tools available, however, none does either support more than one protocol to attack or support parallelized connects.
Currently, this tool supports:
TELNET
FTP
HTTP-GET
HTTP-HEAD
HTTPS-GET
HTTP-HEAD
HTTP-PROXY
LDAP2
LADP3
SMB
SMBNT
MS-SQL
MYSQL
POSTGRES
REXEC
SOCKS5
VNC
POP3
IMAP
NNTP
PCNFS
ICQ
SAP/R3
Cisco auth
Cisco enable
SMTP-AUTH
SSH2
SNMP
CVS
Cisco AAA
However, the module engine for new services is very easy so it won't take a long time until even more services are supported. Planned are: SSH v1, Oracle and more…
This tool is a proof of concept code, to give researchers and security consultants the possibility to show how easy it would be to gain unauthorized access from remote to a system.
Download THC Hydra
You can THC Hydra download is here:
How to install THC Hydra
Compile and install (./configure; make; make install)
If you want the THC Hydra windows hydra.exe version you can grab the Cygwin version from thc.org.
More info is available here