Rapid7 Nexpose Community Edition is a free vulnerability scanner & security risk intelligence solution designed for organizations with large networks, prioritize and manage risk effectively.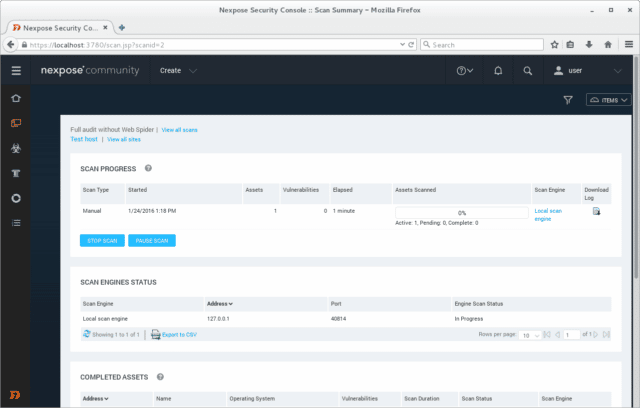 It proactively supports the entire vulnerability management lifecycle, including discovery, detection, verification, risk classification, impact analysis, reporting and mitigation.
Nexpose Community Edition Features
Data breaches are growing at an alarming rate. Your attack surface is constantly changing, the adversary is becoming more nimble than your security teams, and your board wants to know what you are doing about it. Nexpose gives you the confidence you need to understand your attack surface, focus on what matters, and create better security outcomes.
Real Risk Score – The standard 1-10 CVSS score results in thousands of "critical" vulnerabilities.
Adaptive Security – With Adaptive Security, you can automatically detect and assess new devices and new vulnerabilities the moment they access your network.
Policy Assessment – Hardening your systems is just as important as finding and fixing vulnerabilities.
Remediation Reporting – Help IT help you. With Nexpose remediation reports, show IT the 25 actions they can take right now to reduce the most risk.
Integration with Metasploit – With Metasploit Pro, you can validate your vulnerability scanner results using an automated, closed-loop process.
Powerful Reporting – Do you know where you should invest energy and budget?
Compliance Requirements – Stay compliant with PCI DSS, NERC CIP, FISMA (USGCB/FDCC), HIPAA/HITECH, Top 20 CSC, DISA STIGS, and CIS standards.
Apparently, the enterprise on-premise version is really powerful and comes highly recommended, especially with the integration to Metasploit which can actually validate vulnerabilities and compliance scanning which I've personally found to be a pain in the arse (PCI DSS especially).
Who is Rapid7?
Rapid7 is the leading provider of unified vulnerability management, compliance and penetration testing solutions. With more than 1,000 customers, Rapid7 delivers actionable intelligence about an organisation's entire IT environment. Rapid7 offers the only integrated threat management solution encompassing network security, Web application security, database security and penetration testing strategies.
How to use Nexpose Vulnerability Scanner
Minimum Hardware:
2 GHz+ processor (Dual-core processor recommended)
8 GB RAM (16 GB recommended)
80 GB+ available disk space (10 GB for Community Edition)
10 GB+ available disk space for Scan engines
English operating system with English/United States regional settings
100 Mbps network interface card (1 Gbps NIC recommended)
The documentation is here:
– Installing the Application
– Getting Started
Download Nexpose Community Free
You can download Nexpose Community here:
Nexpose Community Free 1-Year Trial
Or read more here.