wifite is created to attack multiple WEP and WPA encrypted networks at the same time. This tool is customizable to be automated with only a few arguments and can be trusted to run without supervision.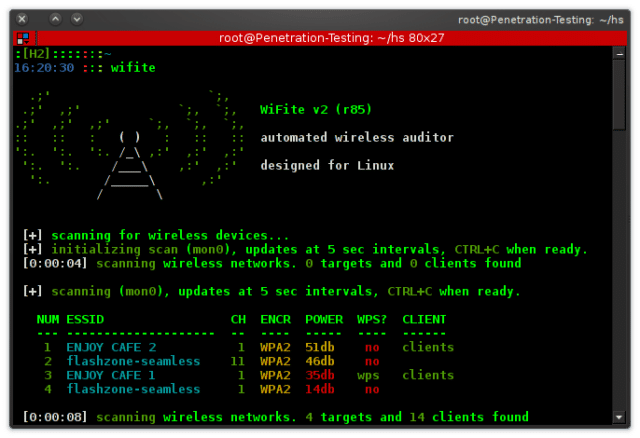 It's a great tool to script into part of a toolkit for Wifi security assessments and is a handy wifi wep key cracker.
The biggest change from version 1 is support for "reaver", a Wifi-Protected Setup (WPS) attack tool. Reaver can compromise the PIN and PSK for many routers that have WPS enabled, usually within hours.
Features of wifite
sorts targets by power (in dB); cracks closest access points first
all WPA handshakes are backed up (to the working directory)
mid-attack options: stop during attack with Ctrl+C to use (continue, move onto next target, skip to cracking, exit)
numerous filters to specify exactly what to attack (wep/wpa/both, above certain signal strengths, channels, etc)
very customizable settings (timeouts, packets/sec, etc)
SKA support (untested)
finds devices in monitor mode; if none are found, prompts for selection
all passwords saved to log.txt
switching WEP attacks does not reset IVS
displays session summary at exit; shows any cracked keys
Similar WiFi cracking tools would be:
– Infernal Twin – Automated Wireless Hacking Suite
– FruityWifi – Wireless Network Auditing Tool
– wifite – Mass Wifi WEP/WPA Key Cracking Tool
– Kismet – Wireless Network Hacking, Sniffing & Monitoring
You can download wifite automated wireless attack tool here:
Or read more here.